This week's hitters aren't that interesting, especially compared to the pitchers. I'd not be surprised if a couple of league winners will be picked up this week.
In the article, I cover the players using CBS's (about 40% or less initial roster rate) and Yahoo's ADD/DROP rates. Both hosting sites have the option for daily and weekly waiver wire adds. CBS uses a weekly change while Yahoo looks at the last 24 hours. Yahoo is a great snapshot of right now while CBS ensures hot targets from early in the week aren't missed. The players are ordered for redraft leagues by my rest-of-season preference grouped by starters, relievers, and hitters.
Hitters
Steven Kwan: He remains on fire (.455/.606/.636) and there are just a few leagues left where he can still be added. Last week was the time to roster him.
Connor Joe: This week will be the last week to add him since he's leading off every day for Colorado while destroying baseballs (.321/.424/.571). And to top it off, he has three games already at first base so some positional flexibility is coming.
Owen Miller: He's starting at first base (qualified at 2B) and hitting .522/.520/1.043 (leads the league in doubles). He doesn't have the potential to be rostered if he not playing. He's never been an elite prospect but does have enough talent to possibly turn into a Jonathan Schoop type of player (above average AVG with decent power).
Thairo Estrada: The 26-year-old is the Giants' second baseman while hitting OK (.591 OPS, 1 HR, 1 SB) so far this season. He's already set a new career-best MaxEV by 1.6 mph. If he can improve on his .211 BABIP in order to stay in the lineup, he has the potential to hit 20 to 30 HR.
Santiago Espinal: He has taken over Toronto's second base job with Cavan Biggio (.000/.308/.000) struggling at the plate. Espinal has been hitting just fine (.250/.333/.375) and should soon be qualified at second base on top of third base.
Seth Brown: Brown had started every game until the last two. While struggling to get hits (.200 AVG), he has shown power once making contact (.240 ISO, 2 HR). If I had written this blurb before he sat, I'd have him a few spots higher. Right now, I need to temper my expectations.
Jorge Mateo: Mateo will be a fantasy viable with his stolen base ability, but might not belong in the majors. His .594 OPS isn't a death sentence this early into the season. The biggest issues with him are no power and a 33% K%. Last season he only had a 26% K%, but pitchers have cut back on the fastballs he has seen (46% to 42%). Also, for someone with his speed, he has hit more flyballs (5) than ground balls (3).
Oscar Mercado: He's been a disappointment after this breakout 2019 season. He seems to have decided to sell out for power (60% Pull%, 30% GB%, 29% K%) and has three home runs and a 15% Barrel% so far. The lack of contact his batting average down at .176. He's probably worth rostering but it's tough to know what type of hitter he has become.
Paul DeJong: He's playing every day while hitting .176/.300/.412 with 1 HR. In some leagues, that production has value.
Jurickson Profar: He's started seven of the nine Padres games while hitting .261/.400/.565 with 2 HR. The home runs are nice, but I don't see any signs of a breakout.
Maikel Franco: While he's at the bottom of the Nats lineup, he is playing and hitting .273/.265/.424.
Eric Hosmer: It seems like the Padres are starting Hosmer all the time in order to build up his trade value. He's hitting .400/.438/.567 with a .440 BABIP and zero home runs or barrels. There is no talent bump here, just a groundball hitter on a lucky streak.
Chad Pinder: He's hitting in the top or middle of the A's lineup showing some power (.241/.241/.517 with 2 HR) but nothing else.
Kyle Farmer: He's hitting (.308/.400/.385) at the bottom while playing every day.
Elvis Andrus: He's hitting (.276/.364/.517) and playing.
Tyler Naquin: He likely started the season in a platoon with Aristides Aquino, but Naquin's hot start (.320/.393/.560 with 1 SB and HR) may get him more at-bats. It'll be interesting to see how much he starts with the Reds facing four lefties in the next five games.
Ji-Man Choi: Choi is still on the strong side of a first base platoon and this season he's paired with Harold Ramirez. Choi's 1.640 will obviously regress once his .667 BABIP normalizes.
Brad Miller: He remains on the strong side of an outfield platoon while hitting for some power (.304 ISO, 2 HR).
Luis Arraez: He might be in a platoon with Gio Urshela. The Twins have faced four lefties and Arraez has sat against three of them because he has a huge split (career .821 vs RHP, .653 vs LHP).
Gio Urshela: He might be in a platoon with Luis Arraez. The Twins have faced three righties and Urshela has sat against two of them even though he doesn't have a huge split (career .767 vs RHP, .734 vs LHP)
Brandon Marsh: Marsh along with Jo Adell and Jose Rojas are splitting two outfield spots with Taylor Ward about to come off the IL. Ward has been given one of those spots by Joe Maddon. Even though Marsh is hitting (.286/.385/.476), he can't be ranked too high without full-time at-bats. Hopefully, the playing time situation clears itself up soon.
Jose Siri: He's on the short side of a platoon with Chas McCormick. Even though he's hitting .429/.500/.714 with 1 HR and 1 SB, his future fantasy value is lukewarm at best.
Jack Mayfield: He's splitting time at second base with Tyler Wade. He has a 1.275 OPS but in just 14 PA. This is from a hitter with a lifetime .631 OPS. Ignore.
Heliot Ramos: The 22-year-old was optioned back to AAA.
Catchers
Austin Nola: When he starts, it's in the top third of the lineup. He might finally be healthy and start being productive again.
Sean Murphy: He has played every day at catcher and DH and is hitting OK (.219/.286/.469) for a catcher.
Francisco Mejía: He's starting half the time and is not a batting average sink like some other catchers.
Jonah Heim: In three games he's hitting .545/.615/1.091
Danny Jansen: He's on the IL, so he might be worth dropping.
CBS Hitter Rostership Rate
| Name | Prev Roster% | Current Roster% | Change% |
| --- | --- | --- | --- |
| Sean Murphy C OAK | 35% | 37% | 2% |
| Austin Nola C SD | 30% | 36% | 6% |
| Gio Urshela 3B MIN | 29% | 32% | 3% |
| Connor Joe 1B COL | 28% | 73% | 45% |
| Luis Arraez 3B MIN | 26% | 30% | 4% |
| Brandon Marsh LF LAA | 24% | 28% | 4% |
| Eric Hosmer 1B SD | 20% | 27% | 7% |
| Paul DeJong SS STL | 18% | 20% | 2% |
| Steven Kwan LF CLE | 15% | 82% | 67% |
| Danny Jansen C TOR | 14% | 20% | 6% |
| Jorge Mateo SS BAL | 13% | 19% | 6% |
| Tyler Naquin RF CIN | 11% | 16% | 5% |
| Ji-Man Choi 1B TB | 10% | 22% | 12% |
| Kyle Farmer SS CIN | 10% | 14% | 4% |
| Heliot Ramos RF SF | 8% | 15% | 7% |
| Jurickson Profar LF SD | 7% | 36% | 29% |
| Francisco Mejia C TB | 7% | 15% | 8% |
| Brad Miller LF TEX | 6% | 16% | 10% |
| Seth Brown RF OAK | 5% | 16% | 11% |
| Chad Pinder LF OAK | 5% | 8% | 3% |
| Maikel Franco 3B WAS | 3% | 11% | 8% |
| Santiago Espinal 2B TOR | 3% | 8% | 5% |
| Elvis Andrus SS OAK | 3% | 8% | 5% |
| Jose Siri CF HOU | 3% | 7% | 4% |
| Oscar Mercado RF CLE | 2% | 14% | 12% |
| Thairo Estrada 2B SF | 2% | 6% | 4% |
| Owen Miller 1B CLE | 1% | 45% | 44% |
| Jonah Heim C TEX | 1% | 8% | 7% |
| Jack Mayfield 2B LAA | 0% | 2% | 2% |
Starters
Nestor Cortes: I'm surprised Cortes's rostership is so low. He never made it out of any league I drafted preseason. His gains from last season seemed to have stuck and he's added a bit of fastball velocity (90.7 mph average to 91.4 mph).
Kyle Wright: It's as simple as 15 K and 1 BB in 11 IP. A must-roster in all formats. He's throwing more strikes (Zone% from 50% to 55%) and harder (93.2 mph to 94.8 mph).
Michael Lorenzen: His approach at throwing the kitchen sink at batters never work before this season, but in one start he looked great (6 IP, 7 K, 0 BB, 1 R). In the start, he leaned on his sinker which was amazing (18% SwStr%, 83% GB%). Here are the comps on the sinker.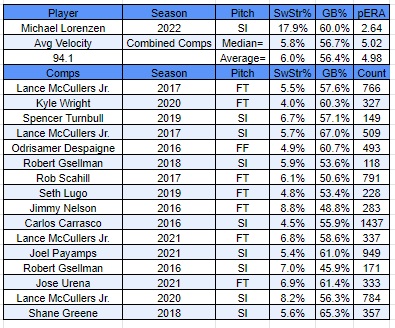 Lance McCullers' sinker is nice comp. Lorenzen's fastball was holding him back. His change is above average. If he can get one or two other pitchers to be average, this sinker is a game-changer. The six-man rotation does limit his upside.
Garrett Whitlock: He was the toughest to rank. I could justify him going higher or lower. For now, he's following Rich Hill and in Whitlock's appearances, he's thrown 38, 39, and 30 pitches. In those appearances, he has an 11.4 K/9, 1.04 ERA, and 0.69 WHIP. The big question going forward is will he continue to follow Hill (ideal for Wins), just being a long reliever, or will he eventually join the rotation as a true starter. My guess is that he'll remain in the piggyback role until injury and/or performance forces someone else out of the rotation.
Paul Blackburn: So far, he's thrown 10 IP with 10 K, 1 BB, 2 ER, and near 60% GB%. If he keeps this up for the entire season, he'll end up as a top-50 starter. Can he?
First, his average fastball velocity is up to a career-high. Even with the added velo, he's backed off the pitch, dropped his slider, and is going more with his cutter and elite curve (career 17% SwStr%, 51% CB%). I think he needs to be added to see where his talent stabilizes at.
Justin Steele: There is a lot going on with Steele. His velocity jumped from 92.6 to 93.7 mph from his first to his second start. He's been throwing more strikes (51% to 54% Zone%) driving down his walk rate from 4.3 BB/9 to 2.9 BB/9. And his 50% GB% has kept the ball in the yard (0 HR allowed). I'm not sure where his talent will end up, but if I have the roster space, I'd find room for him while he's still cheap.
Erick Fedde: His late-season changes from 2021 have stuck and he's transformed into someone to be started in two-thirds of this starts. It's not going to be a sexy pickup, but might be the best deal by season's end.
Josh Fleming: Some interesting numbers from his first two appearances. 14.9 K/9, .556 BABIP. 72% GB%. 0.22 FIP. 1.4 BB/9. 1.65 WHIP. I have no idea who those will stabilize and I'll move on to what I do know.
He reworked his arsenal and ditched his cutter for a sinker that he featured. There is a good reason why. So far it has a 22% SwStr% and 68% GB%. It wasn't a horrible pitch last year (9% SwStr%, 65% GB%) and is a great replacement for his cutter (6% SwStr%, 32% GB%).
Besides the sinker, he added a slider (never threw one in the past). It generated three swinging strikes and might be a nice addition.
Wil Crowe: Crowe has been in three games but only has 7 IP with his last pitch count up to 50. In those games, he has yet to allow a run with an 11.6 K/9. He's improved by doing two things.
First, he's not walking as many batters with his walk rate dropping from 4.4 BB/9 to 3.9 BB/9.
Second, he reworked his pitch mix by dropping his curve, throwing his four-seamer fewer times, and using his change and slider more. He throwing his best pitches as much as possible. Also, he doesn't have to throw his fastballs in the zone because he can use his change (56% Zone%). So far, the new mix has his groundball rate up to 54%.
It'll be interesting to see what his role is going forward.
Nick Martinez: Martinez has had one great start (5 IP, 6K, 1 BB, 1 ER) and one disaster (5 IP, 3 K, 4 BB, 4 ER). I don't think anyone knows for sure where his talent eventually settles, but if the positives start out weighting the negative, feel free to add him.
Michael Wacha: He's reworked his pitch mix by throwing more four-seamers, changes, and curves and basically ditching his cutter. His change remains elite (27% SwStr%) along with the curve has boosted his groundball rate from 40% to 46%. His biggest issue has been 3 BB in just over 4 IP. His second start against Minnesota is going to go a long way in determining if his value goes up or down. I'm interested in seeing how he throws.
Brad Keller: He's throwing a bit harder and reworked his changeup. The .129 BABIP won't last but he could end up with a 3.50 ERA and a decent strikeout rate.
Chris Archer: He was OK in his first start back. His velocity was up 1.3 mph from last season but still not at his peak levels (>95 mph). The start was encouraging and I'd like to see how the one on Tuesday goes.
Jordan Hicks: Because of open days and a rainout, Hick has not started yet this season (2 IP relief app., 2 K, 1 BB). More wait and see.
Drew Smyly: I'm interested especially since the results from his Colorado start might hide some of the changes. While his fastball velocity is down almost 1 mph, the drop doesn't matter since he's barely throwing his fastball (25%). He's now featuring his curve (14% SwStr%, 67% GB%) and cutter (13% SwStr%, 60% GB%). While he only struck out one batter, his 10% SwStr% should have generated a 20% K% and it was just 6%.
Bryce Elder: He's got one major league start under his belt and utilized a cutter-splitter-slider mix. None of them are over 90 mph. He had a 53% GB% which is in line with his minor league numbers. I really don't know how to value him and with several decent options, I'm willing to wait.
Dallas Keuchel: Keuchel has moved away from his sinker (usage down 8% points) by throwing his cutter (13% SwStr%) and slider (9% SwStr%) more. I'm not sure if the changes are enough to make him fantasy relevant again.
Matt Manning: Only three strikeouts over eight innings so far. Same velocity. Same pitch mix. The same low-strikeout, pitch-to-contact guy. Ed. note – also left Saturday's outing after 2 IP w/shoulder discomfort, though it was said to be precautionary.
Daulton Jefferies: He has no swing-and-miss in his game (3.9 K/9, 9% SwStr%). His walk (2.9 BB/9) and groundball (50%) are decent but not elite enough to make up for the lack of strikeouts. Ignore until he starts striking out batters.
Vince Velasquez: I'm not going to recommend a pitcher with a career 4.93 ERA and 1.39 WHIP who is showing no signs of improvement. His fastballs have not generated one swing-and-miss yet and he needs them for called strikes when behind in the count. I've been fooled too many times to go back to this well.
Dylan Bundy: He can be ignored for now since non of his underlying skills have improved. He might even be headed downward with a career-low 90.1 mph fastball.
Cole Irvin: He's not a good pitcher with no signs of a breakout.
Tommy Romero: His major league debut was a disaster (1.2 IP, 3 ER, 1 K, 5 BB). While I can see the upside, I'll be interested in him once he stops walking batter (4.9 BB/9 in AAA).
Josh Rogers: I can't believe the number of people who focus on ERA has a way to evaluate pitching. Yes, he has a 1.69 ERA but it is because of the .133 BABIP. Rogers has a career 5.25 ERA and just a 4.84 K/9. Ignore.
Starting Prospects
Max Meyer: He is looking good in AAA with a 2.00 ERA, 13.0 K/9, and 0.33 WHIP.
CBS Starter Rostership Rate
| Name | Prev Roster% | Current Roster% | Change% |
| --- | --- | --- | --- |
| Cole Irvin SP OAK | 39% | 41% | 2% |
| Nestor Cortes SP NYY | 36% | 47% | 11% |
| Dallas Keuchel SP CHW | 27% | 33% | 6% |
| Max Meyer RP MIA | 21% | 24% | 3% |
| Dylan Bundy SP MIN | 18% | 26% | 8% |
| Matt Manning SP DET | 18% | 23% | 5% |
| Kyle Wright SP ATL | 15% | 67% | 52% |
| Brad Keller SP KC | 15% | 27% | 12% |
| Justin Steele SP CHC | 13% | 35% | 22% |
| Nick Martinez SP SD | 11% | 19% | 8% |
| Chris Archer SP MIN | 10% | 12% | 2% |
| Daulton Jefferies SP OAK | 7% | 11% | 4% |
| Michael Wacha SP BOS | 6% | 8% | 2% |
| Drew Smyly SP CHC | 5% | 9% | 4% |
| Michael Lorenzen SP LAA | 5% | 17% | 12% |
| Erick Fedde SP WAS | 3% | 5% | 2% |
| Josh Fleming RP TB | 2% | 6% | 4% |
| Bryce Elder SP ATL | 2% | 5% | 3% |
| Paul Blackburn SP OAK | 1% | 9% | 8% |
| Tommy Romero SP TB | 1% | 7% | 6% |
| Vince Velasquez SP CHW | 1% | 3% | 2% |
| Wil Crowe RP PIT | 1% | 3% | 2% |
| Josh Rogers SP WAS | 0% | 4% | 4% |
Closers: Rankings based on ability to accumulate Saves.
Anthony Bender: Good reliever who is the closer.
Tanner Rainey: OK reliever who is the closer.
Daniel Bard: OK reliever who is the closer.
Hansel Robles: OK reliever who might be the closer.
Jorge López: OK reliever who may be the closer.
Jhoan Duran: Elite reliever who may be the closer.
Art Warren: Good closer who is sharing the closer's role.
Diego Castillo: Good reliever who is sharing the closer's role.
Tony Santillan: Good reliever who is sharing the closer's role.
Mychal Givens: Good reliever who is sharing the closer's role.
David Robertson: OK reliever who is sharing the closer's role.
Jake Diekman: Good reliever who might be sharing the closer duties.
J.P. Feyereisen: Good reliever who might be sharing the closer duties.
Michael Fulmer: Good reliever who is next in line for Saves.
Kendall Graveman: Good reliever who is next in line for Saves.
Pierce Johnson: Good reliever who is next in line for Saves.
Yimi García: OK reliever who is next in line for Saves.
Spencer Strider: Possibly an elite reliever who is not currently in line for Saves.
Brock Burke: Possibly an elite reliever who is not currently in line for Saves.
Michael King: Good reliever who is not in line for Saves.
Brad Hand: OK reliever who is only getting added based on name value.
CBS Reliever Rostership Rate
| Name | Prev Roster% | Current Roster% | Change% |
| --- | --- | --- | --- |
| David Robertson RP CHC | 39% | 58% | 19% |
| Anthony Bender RP MIA | 33% | 41% | 8% |
| Art Warren RP CIN | 33% | 35% | 2% |
| Garrett Whitlock RP BOS | 30% | 37% | 7% |
| Jordan Hicks RP STL | 19% | 24% | 5% |
| Diego Castillo RP SEA | 17% | 22% | 5% |
| Tony Santillan RP CIN | 16% | 21% | 5% |
| Tanner Rainey RP WAS | 15% | 34% | 19% |
| Spencer Strider RP ATL | 13% | 19% | 6% |
| Jhoan Duran RP MIN | 12% | 28% | 16% |
| Kendall Graveman RP CHW | 10% | 12% | 2% |
| Jake Diekman RP BOS | 8% | 28% | 20% |
| Brad Hand RP PHI | 8% | 11% | 3% |
| Michael Fulmer RP DET | 8% | 10% | 2% |
| Pierce Johnson RP SD | 8% | 10% | 2% |
| Daniel Bard RP COL | 4% | 42% | 38% |
| Mychal Givens RP CHC | 4% | 7% | 3% |
| Jorge Lopez RP BAL | 3% | 7% | 4% |
| Yimi Garcia RP TOR | 3% | 5% | 2% |
| J.P. Feyereisen RP TB | 3% | 5% | 2% |
| Michael King RP NYY | 2% | 4% | 2% |
| Hansel Robles RP BOS | 1% | 5% | 4% |
| Brock Burke RP TEX | 0% | 2% | 2% |